In order to support the DE&S's latest requirements, Smiths Detection formed a cross-functional team of over 40 experts to design a program that would address today's challenges. At the core of Smiths Detection's service delivery model was the creation of a new dedicated facility—the Service Hub—with new layout and processes that can be adapted and expanded to cover future service opportunities.
The multidisciplinary team of experts and specialists worked closely to formulate a strategy to bring the Service Hub to life. This included infrastructure planning, facility enhancements and modelling of a new service delivery solution.
The team overcame barriers and implemented additional measures to be able to deliver the project on time and on budget, despite COVID-19. As a result, the Service Hub began operations in record time and demonstrated it was able to deliver DE&S's needs and more within one month. With this new Service Hub, DE&S now has dedicated workshop areas, bespoke threat calibration and test equipment, and dedicated service staff with broader service expertise on hand to improve processes and efficiencies.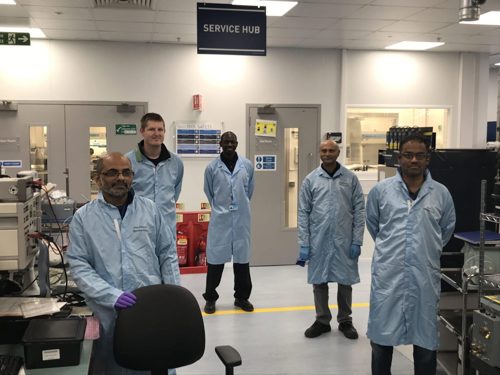 Since the Service Hub began in early 2021, it has already demonstrated that the new integrated model will achieve the higher throughput required by DE&S and that it can also deliver the flexibility to service ad hoc repairs on demand. This new model has ultimately helped DE&S boost the operational and defence capabilities of its CWA detection fleet, and they are looking towards more potential value-added services and upgrades from Smiths Detection.