For 20 years, the mobile security department at Smiths Detection has provided security for the Munich Security Conference. "It's always a special assignment for us because we are responsible for the security of high-ranking politicians from all over the world, who draw a lot of attention," explains van Gend. The scope of the systems used has increased from year-to-year, partly as a result of newly added event sites. Including a checkpoint at the restaurant, "Käfer-Schänke", where the exclusive MSC dinner takes place.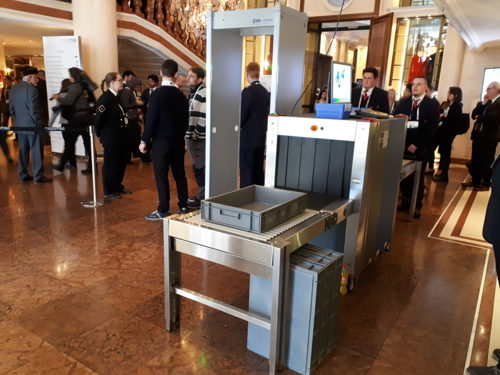 Overall, six scanners were used to secure buildings and tents for the event. These scanners were operated by personnel from the Securitas München security service, with whom Smiths Detection works closely. Dr. Benedict Franke, Chief Operating Officer for the Munich Security Conference says about this tried-and-tested concept: "We value the many years of professional cooperation with all of the parties involved and how smoothly everything runs at the checkpoints."
Outside the Munich Security Conference, Smiths Detection's 80 security solutions from its mobile security department are continuously in use at a wide variety of locations. Other examples have included the global economic summit in Davos and the signing of the renewed German-French Friendship Agreement between Angela Merkel and Emmanuel Macron at the Aachen town hall. They are also regularly used at general meetings of DAX 30 companies.
"Being able to supply mobile security solutions is a real advantage Smiths Detection has," explained van Gend. "It allows our customers to get the best security screening available for their event year-after-year or for one-off events."