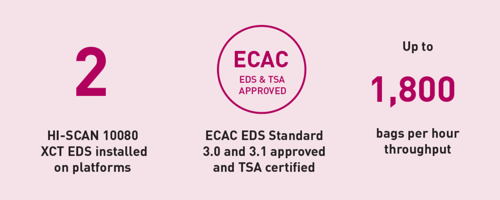 To address the airport's challenges, we installed two units of explosives detection system (EDS) HI-SCAN 10080 XCT—on elevated platforms.
The HI-SCAN 10080 XCT is ECAC EDS Standard 3.0 and 3.1 approved and is also TSA-certified. It is an advanced dual-view, dual-energy explosives detection system (EDS) with full 3D volumetric Computed Tomography (CT) imaging and reconstruction, that produces high resolution images.
The CT technology-based scanner also boasts a belt speed of 0.5m/sec (98.5ft/min) which delivers a high throughput of up to 1,800 bags in an hour and has a large 107 x 81cm (42.1 x 31.9in) rectangular tunnel which scans bags of up to 100x80cm (39.4 x 31.5in).
By having the HI-SCAN 10080 XCT installed on platforms, this helps save precious space and ensures that existing elements of the baggage facility can continue to function smoothly—while providing enhanced security for more information on our hold baggage solutions.