With officers searching cells every day for contraband, Swope and Lancaster were keenly aware of the problem and the strain on jail staff, and they took steps to address the issue.
After eight to ten months of planning, a grant created a window of opportunity for Somerset County Jail. Of the many body scanners on the market, what caught the officials' attention was in the Smiths Detection B-SCAN. Both Lancaster and Swope viewed the B-SCAN as a promising solution the fight against contraband.
"The quality of the imaging was far superior to any other systems we looked at," said Swope. "When it comes to detecting contraband, it's not just about the scan, it's the quality of the imaging you rely on to make the call of whether there's something suspect or out of the ordinary."
Somerset County Jail enlisted the help of Access Control Systems, Inc. (ACS), an authorized channel partner of Smiths Detection based in Milford, NH to facilitate the purchase of the B-SCAN. ACS was able to help guide the jail's administrative staff in system specifications, installation of the unit, staff training, and will service the system going forward. Charlie Patterson, President of ACS said, "We are pleased to have been able to play a such a pivotal role in Somerset County Jail's purchase of a body scanner as we have with so many others across the greater Northeastern US. We know from our experiences that this technology greatly reduces the instances of contraband and makes the facility safer for staff, inmates, and visitors. And it pays for itself in overtime and overall operational cost savings"
Before the B-SCAN body scanner was purchased, officials at the Somerset County Jail relied on pat-down searches to search for contraband – and sometimes even strip searches when deemed absolutely necessary.
"But then again, that doesn't screen for what's inside the inmates' bodies," said Lancaster, "and you'd be surprised by what you'd find in the most unexpected parts of the body."
Now all inmates go through the body scanner, which uses a low dose of X-rays to screen each individual.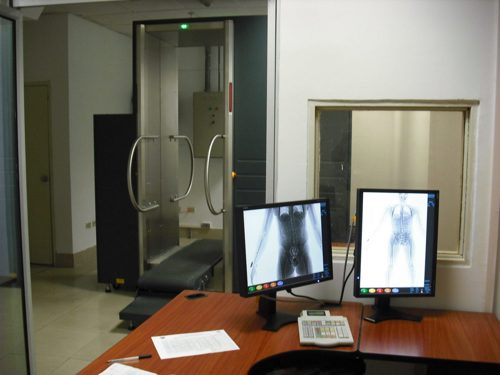 The quality of the imaging was far superior to any other systems we looked at