Leading technology will support Samoa in meeting its international aviation security goals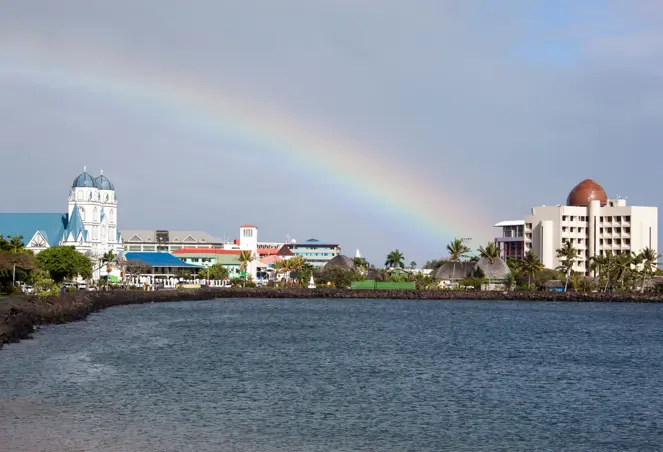 Smiths Detection, a global leader in threat detection and security screening technologies, today announces that it has been selected to supply next generation aviation security screening equipment at Faleolo International Airport, Samoa. The contract has been awarded by the New Zealand Ministry of Foreign Affairs and Trade who are supporting Samoa by upgrading its security screening to promote tourism and safe travel to and from the Pacific Island nation. The upgrade will also provide security at the Commonwealth Heads of Government Meeting ('CHOGM') in 2024. 
Faleolo International Airport, Samoa's largest airport, will receive three HI-SCAN 6040-2is for carry-on baggage, one CTX 5800 CT X-ray machine for checked in baggage, one 100100T-2is X-ray machine for large cargo and three IONSCAN 600 Explosive Trace Detection systems. The agreement includes staff training and support for maintenance and spare parts to optimise usage and uptime.
The roll-out of the equipment will be a step forward in safety and security for the airport and help ensure compliance. This will also enable direct flights from the United States to Samoa as the CTX5800 complies with U.S Federal Aviation Administration regulations, which will meet International Civil Aviation Organization (ICAO) security requirements.
The New Zealand government is providing Samoa and a further eight Pacific Island nations the latest Smiths Detection equipment to support aviation security throughout the region[1].
Smiths Detection's North & South Asia Market Head, Aurelien Guilbert, said: "We're delighted that we have been selected to strengthen Faleolo International Airport's security capabilities. Once installed, the equipment will not only enhance safety at Faleolo International Airport but help enable direct flights between the US and Samoa, and improve the overall passenger airport experience."
Samoa Minister of Works, Transport and Infrastructure, Honourable Olo Fiti Afoa Va'ai, said: "I acknowledge the work and tireless efforts of the people behind the scenes to bring this to completion.  The installation of this new equipment will ensure Samoa's continued compliance with ICAO standards and is a timely investment as we prepare to host the CHOGM meeting in 2024."
Installation of the systems will begin in mid-2024 and will be fully operational prior to CHOGM in October 2024.
ENDS
[1]AOTEAROA NEW ZEALAND AND SAMOA SIGN AVIATION SECURITY EQUIPMENT AGREEMENT|EIN PRESSWIRE
About HI-SCAN 6040-2is 
The HI-SCAN 6040-2is is an advanced dual-view X-ray inspection system for the automatic detection of solid and liquid explosives in personal belongings and checked baggage. It has an ergonomic design that makes it easy for the operator to identify threats on screen.
About CTX 5800
CTX5800 is a compact CT explosives detection system (EDS) that helps to quickly identify threats in checked baggage and cargo packages. It is ideal for use in smaller airports or logistics centres.
About IONSCAN 600
IONSCAN 600 is a portable explosives and narcotics trace detector. IONSCAN 600 is a highly sensitive, non-radioactive, lightweight desktop system that detects and identifies trace amounts of explosives and narcotics including fentanyl and spice. 
About 100100V-2is
100100V-2is provides both horizontal and vertical view of the screened object (dual-view). This screening method facilitates reliable inspections of tightly packed objects in one process, shortening inspection times.