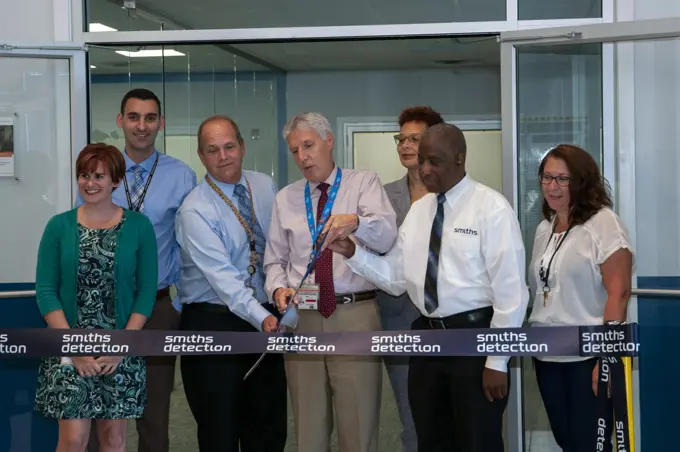 Smiths Detection Inc. (SDI) announces the creation of a new Technology Studio at its Americas headquarters, located in Edgewood, Maryland. It was established to demonstrate the company's range of cutting-edge screening and detection solutions, as well as provide a venue to showcase innovative digital concepts to customers and partners.
Shan Hood, President of SDI, said: "The new Technology Studio is an opportunity for customers, regulators, government agencies, and policy makers to see the wide array of threat detection and screening technologies Smiths Detection makes. It also gives our communities an opportunity to learn how our innovative technology and digital solutions can help make the world safer today and into the future".
The Technology Studio features and highlights leading Smiths Detection's technologies, including:
HI-SCAN 6040 CTiX – latest generation of aviation checkpoint scanners that use Computed Tomography (CT) technology. A recent $96.8 million order by the TSA will see this leading-edge technology in airports across the US.
HI-SCAN 180180-2is pro – X-ray scanner designed for the inspection of large scale consolidated and palletised goods, ideal for cargo inspection.
CTX 9800 DSi – ECAC Standard 3 approved and TSA certified explosives detection system (EDS) suitable for identifying threats in checked baggage and cargo packages.
HCV Product Line – Mobile, drive-through and rail car X-ray scanners for freight, trucks and other vehicles.
Target-ID/HazMatID Elite – infrared hand-held chemical identifiers used by defence agencies and emergency responders to identify suspected hazardous or dangerous substances.
ACE-ID – an analyzer that uses laser Raman spectroscopy to identify unknown substances through clear plastic and glass.
IONSCAN 600 – a portable Ion Mobility Spectrometry (IMS) system used in airports, government buildings and cargo facilities to detect and identify trace amounts of suspected explosives and narcotics.
B-SCAN – a transmission X-ray people screener that correctional agencies utilize to thwart contraband smuggling
LCD Product Line – wearable sensors that alert military personnel, police and hazmat responders to the presences of toxic substances and dangerous chemicals.
###
About Smiths Detection
Smiths Detection is a global leader in threat detection and screening technologies for aviation, ports and borders, urban security and defence. With more than 40 years of field-tested experience, we deliver the solutions needed to protect society from the threat and illegal passage of explosives, prohibited weapons, contraband, toxic chemicals and narcotics.
Our mission is to help make the world a safer place – and do this by using technology to develop innovative solutions and services which protect life, safeguard society and uphold the free flow of trade.
For more information visit https://www.smithsdetection.com.
Media Contacts:
Chad Kolton, Blueprint Communications, 571-414-0730, chad@blueprintcomms.com
Dana Knox-Gower, Smiths Detection, Communications and Marketing – Americas, 203-482-6752 dana.gower@smiths-detection.com
Photo details:
L to R: Joe Ricco (Regional Sr Sourcing Manager), Marlise Gilley (Sr Program Financial Analyst), John Volz (Sr Radiation Safety Officer), Steve Esposito (VP, Business Development, Sales and Marketing), Bridgett Williams (HR Business Partner – Labor Relations), Jordan Fields (Associate Test Engineer), Jennifer Bruns (Sales Technician, Aviation and Canada)
Photo Credit: Barry Rodgers, Smiths Detection