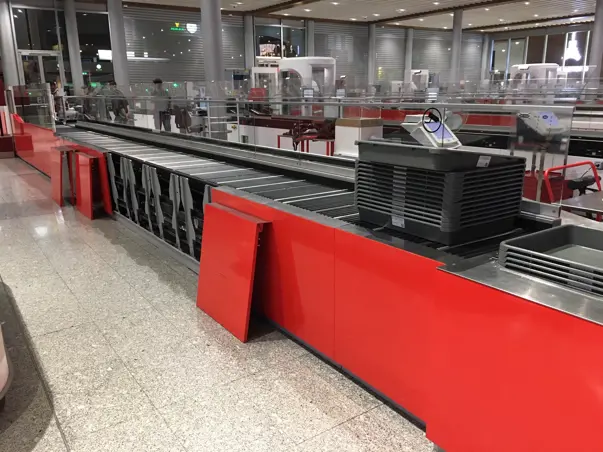 Smiths Detection, a global leader in threat detection and security screening technologies, today announces that its ultraviolet (UVC) automatic tray disinfection solution is currently on trial at Paris-Charles de Gaulle airport,  in collaboration with Groupe ADP, operating and developing the three main Paris airports : Paris-Charles de Gaulle, Paris-Orly and Paris-Le Bourget.
Smiths Detection's UVC system, seamlessly integrated in existing iLane tray return system, has been trialled in Terminal 2E since September 2020. The UVC light kits are capable of destroying up to 99.9% of microorganisms (including SARS CoV-2)  present on baggage trays at the security checkpoint. Health security is  important as airports seek to restore the confidence of travellers and staff  in the context of COVID-19. Thanks to all the health measures already deployed, the Paris airports have obtained the Airport Health Accreditation (AHA) awarded by the ACI (Airports Council International): the reference certification programme in the airport industry
Installed in several airports around the world, Smiths Detection's UVC technology automatically disinfects trays as they are being transported from the reclaim areas back to the divest station, helping to protect passengers and staff from tactile transmission of contagious disease as they pass through security check points at airports.
"We are delighted to be working with Groupe ADP to trial our UVC disinfection kits in Paris-Charles de Gaulle Airport", said Market Head, Gabriel Pequignot. "We have already been working closely with several international airports to deliver the necessary enhancements to their screening process in response to the pandemic. Easily deployed, UVC lights are extremely effective in reducing the transmission of any bacteria or virus that be might be on the surface of trays. This way we are helping travellers feel safer during the security screening process.."
 Before the trial period, Smiths Detection's UVC kit installation was approved by certification company APAVE and deemed safe for people and the environment, as well as tested by an independent laboratory commissioned by Groupe ADP. Thanks to its specially designed casing, the UVC lights pose no exposure risk to staff or passengers and can be installed quickly and easily into existing tray handling systems.