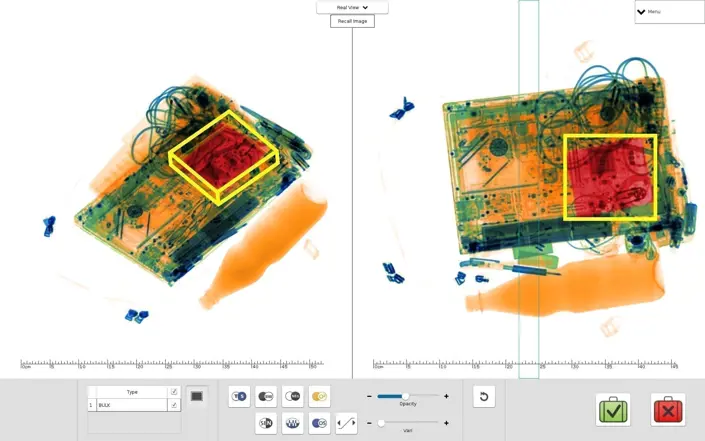 Smiths Detection has gained ECAC EDS CB C3 approval for the innovative HI-SCAN 6040 CTiX checkpoint scanner. This eliminates the need to remove electronic devices and liquids from hand luggage (subject to local authority guidelines) to make the process more passenger friendly. The HI-SCAN 6040 CTiX delivers the highest levels of security demanded by the new regulations, whilst optimizing checkpoint performance through improved productivity, a better passenger experience and lower operational costs.
Removing the need to take out electronic devices and liquids from hand luggage means handling fewer trays which can significantly increase checkpoint throughput and the impressive 0.2m/s belt speed and low false alarm rate also speed up the process.
"As the only technology meeting EDS CB C3 (and potentially future C4) standards, Computed Tomography (CT) is undoubtedly the way forward for checkpoint security," commented Matt Clark, VP Technology & Product Development, Smiths Detection. "With field trials for the HI-SCAN 6040 CTiX well underway, the true value of CT is likely to be established fairly quickly. We are already looking at further developments such as the automatic detection of other dangerous or prohibited items such as guns and large knives."
To minimise upgrade costs, the new scanner can be incorporated easily into existing checkpoint lanes. Integration into an advanced screening and management platform, such as Smiths Detection's Checkpoint.Evoplus, will streamline operations even further through remote screening and directed search; as well as providing access to valuable management data.
The HI-SCAN 6040 CTiX is both ECAC EDS CB C3 approved and TSA AT-2 certified. It is available now to order.
####
Notes to editors
HI-SCAN 6040 CTiX key features:
ECAC EDS CB C3 approved
TSA AT-2 certification
Highest throughput via high belt speed (0.2m/s)
Laptops/liquids can remain in bags
High detection rate and low false-alarm rate thanks to MAT technology
Easily integrated into existing checkpoints
 About CT technology
CT technology has an advanced detection capability which eliminates the need to remove electronic devices or liquids from hand luggage – hence improving passenger experience and throughput. The HI-SCAN 6040 CTiX gantry rotates at a constant speed as baggage is carried through on the conveyor belt. Hundreds of images are taken to create 3D images in real-time, allowing for more accurate judgments on the bag contents