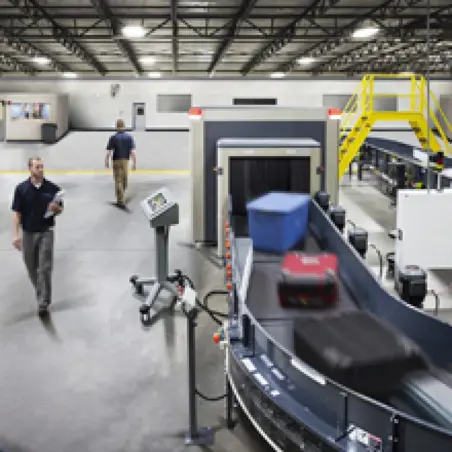 Advanced HI-SCAN 10080 XCT hold baggage scanners offer flexible, sophisticated detection capabilities
Wiesbaden – 22 September 2017: Smiths Detection has won its largest single order ever for its advanced HI-SCAN 10080 XCT hold baggage scanners, with an associated eight-year service agreement. The contract covers 35 of our HI-SCAN 10080 XCT next-generation scanners to support the upgrade to the ECAC Standard 3 explosives detection systems. The solution will deliver increased security and operational efficiency, and can easily be upgraded to meet future requirements to identify evolving threats, such as homemade explosives.
Frankfurt is Europe's second busiest airport in terms of cargo and fourth in terms of passenger numbers, with over 60 million in 2016, making a high-speed, high volume hold baggage system critical to screening efficiency.
The HI-SCAN 10080 XCT scanner combines high-resolution X-ray technology, medical-quality computed tomography (CT) and advanced detection algorithms to deliver exceptional levels of security. It supports a high throughput of up to 1,800 bags per hour, can accommodate items measuring up to 1,000 x 800 mm, and operates with a low false alarm rate to deliver a highly efficient screening process.
Delivery will take place on a rolling basis between 2018 and 2021 with the order also including an eight year service agreement.The scanners will be used in Terminals 1 and 2 and will be operated by the German Federal Police.
"This contract represents our largest single order to date for ECAC Standard 3-compliant hold baggage scanners," commented Tony Tielen, VP of EMEA for Smiths Detection. "Frankfurt was one of the very first airports we supplied with security equipment over fifty years ago, and we're delighted to have the opportunity to continue protecting Germany's busiest airport."
HI-SCAN 10080 XCT key features:
· EU/ECAC EDS Standard 3 approved
· Laboratory certified for high-speed checked baggage screening by the United States Transportation Security Administration (TSA)
· Belt speed of 0.5m/sec (98.5ft/min)
· High throughput of up to 1800 bags per hour
· Large tunnel capable of screening objects 100 x 80 cm (39.4 x 31.5in)
A dual-energy X-ray line scanner with full 3D volumetric Computed Tomography (CT) imaging and reconstruction, the HI-SCAN 10080 XCT is the next generation high-speed checked baggage explosives detection system (EDS).
With a belt speed of 0.5m/sec (98.5ft/min) and a large 1070 x 810mm (42.1 x 31.9in) rectangular tunnel, the HI-SCAN 10080 XCT provides the most economical solution for airport checked baggage screening requirements. This combination of belt speed and tunnel size will provide baggage handling systems the capability to process a throughput of up to 1800 bags/hour with object sizes of up to 1000 x 800 mm (39.4 x 31.5in).
The HI-SCAN 10080 XCT is designed to integrate easily into newly implemented Hold Baggage System (HBS) configurations or as a replacement for current baggage handling systems.
About Smiths Detection
Smiths Detection Inc., part of Smiths Group, is a global leader in threat detection and screening technologies for military, air transportation, homeland security and emergency response markets. Our experience and history across more than 50 years at the frontline, enables us to provide unrivalled levels of expertise to detect and identify constantly changing chemical, radiological, nuclear and explosive threats, as well as weapons, dangerous goods, contraband and narcotics.
Our goal is simple – to provide security, peace of mind and freedom of movement upon which the world depends. For more information visit www.smithsdetection.com; or follow us on LinkedIn at www.linkedin.com/company/smiths-detection; YouTube at www.youtube.com/user/smithsdetectiongroup; or Twitter at twitter.com/smithsdetection.