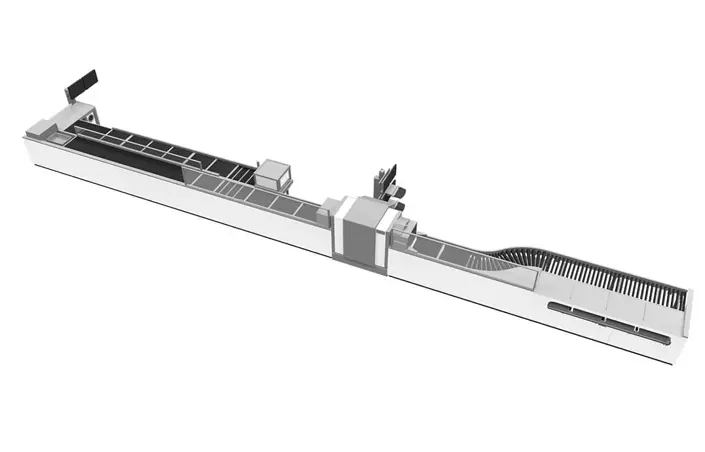 Smiths Detection and its local distributor, Eastronics, have been selected by the Israel Airport Authority (IAA) to supply 32 advanced checkpoint lanes for Ben Gurion Airport and the new Ramon International Airport, which is due to open in 2019. These latest, highly functional lane designs from Smiths Detection incorporate automated tray return and diversion and were developed to improve operational efficiency and passenger experience.
"Automation plays a key role in streamlining screening by literally keeping things moving and the result is increased throughput, lower per capita costs and a passenger friendly process," explained Tony Tielen, Vice President EMEA, at Smiths Detection. "With the help of Eastronics, we were delighted to be able to meet IAA's stringent requirements for this extensive project, which could have a significant impact on maintaining flow at the checkpoint and improving productivity."
The ability to deliver a total solution and integrate it with IAA's unique security CONOPS was a key factor in winning the contract. It comprises 20 lanes for Terminal 3 and six for Terminal 1 at Ben Gurion Airport, where Smiths Detection HI-SCAN 6040-2is dual-view X-ray scanners previously purchased by IAA, will be deployed across the new lanes. Six further lanes will be installed at Ramon Airport, Israel's impressive new international gateway serving the south of the country and the Red Sea. Re-check workstations, an option for remote screening and a SCADA (supervisory control & data acquisition) system for image retention, monitoring, statistics and reporting were also included in the order.
Delivery and installation of the new equipment will begin in May 2019. Aftermarket service (other than spares supply), will be delivered by Eastronics.
###
Notes to editors
iLane.evo key features
Addresses the key issues of passenger divestment; tray loading and return; re-routing suspicious items; and 'reclaim' space at the end of the checkpoint.
Delivers improved productivity, higher throughput and reduced operational costs which represent the measures and benefits of optimum operational efficiency.
Modular in design, offering the flexibility to develop a variety of configurations to meet different requirements and can expand to handle increasing passenger traffic.
Future-proof with the capability to incorporate new inspection systems and functions. In order to ensure the best possible overall results.
Seamlessly integrates into the other checkpoint components.