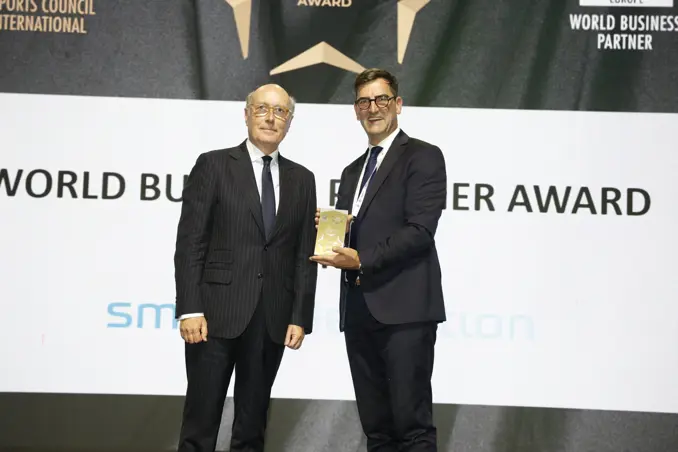 Smiths Detection, a global leader in threat detection and security screening, today announces that they have received the World Business Partner Award at the Annual ACI Europe Best Airport Awards for their significant contributions to the European airport industry. The Annual ACI Europe Best Airport Awards recognise a host of airports of all sizes and profiles for their outstanding performances across the past year; Smiths Detection was the only non-airport beneficiary acknowledged with an award.
This year's awards ceremony emphasised key issues like sustainability, innovation, operational efficiency, and resilience, with five special category awards given to the areas of Accessibility, Digital Transformation, Eco-Innovation, Human Resources and World Business Partner. The winners were selected by an expert panel of judges comprising representatives from Aviation Advocacy, the European Commission, and ECAC.
The World Business Partner (WBP) award is made in "acknowledgement of the extensive efforts and work the WBP community provides to ACI EUROPE, and the value that comes through their active participation in committees". Smiths Detection were selected due to its active participation in the Aviation Security Committee's work for over a decade, and for driving and supporting the adoption of Open Architecture within Security Systems.
Philo Daniel, Global Director Aviation and Urban Security, said: "We are immensely grateful to ACI Europe for acknowledging our contributions to the airports industry and presenting us with the World Business Partner Award. Through our cooperation with the Aviation Security Committee, we have exchanged tremendous insights across a range of special research projects and are delighted to be recognised for our role and participation in keeping airports and their customers safe. Looking to the future, we are excited to continue supporting the industry and driving the adoption of new technologies such as AI and Open Architecture within security systems alongside our industry colleagues and friends.
"With a proud and long history of supplying inspection and detection technologies to the air transport sector, Smiths Detection will continue to offer the necessary solutions to protect against threats that jeopardise our safety and society."