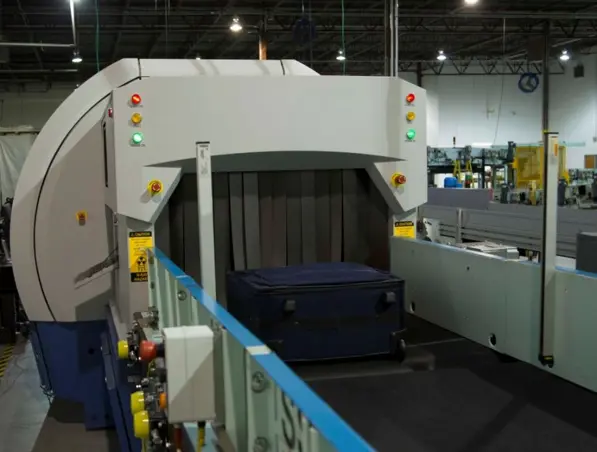 NEWARK, Calif. – Smiths Detection, formerly Morpho Detection – Safran, today announced the Transportation Security Administration (TSA) has ordered 26 additional CTX 9800 DSi explosives detection systems (EDS), with an option to purchase twelve additional units, for a combined maximum value of over $45 million.
The result of over 25 years of CTX innovation, Smiths Detection will deploy all 26 CTX 9800 units to screen checked baggage at airports throughout the U.S. Part of a five-year indefinite delivery/indefinite quantity (IDIQ) contract announced in 2012, these units bring the total number of CTX EDS ordered by TSA to over 1,300 – including almost 200 CTX 9800.
"Smiths Detection is honored to continue our decades-long collaboration with the TSA to help protect travelers and facilitate air travel throughout the U.S.," said Sally Nordeen, Senior Director – Global EDS Sales, Smiths Detection. "As airports continue to invest in scalable detection technologies to meet growing passenger traffic and security challenges, the combination of the CTX platform and our expanded service capabilities will ensure that Smiths Detection remains the trusted partner of choice for the world's airports."
Smiths Detection's CTX 9800 utilizes leading-edge computed tomography (CT) technology to deliver high-resolution 3D images in medium- and high-speed configurations. The unique Clarity data acquisition system (DAS), found in CTX 9800, enables it to screen checked baggage at higher speeds while delivering high-resolution, 3D images of each bag.
The CTX 9800 is certified by the U.S. Transportation Security Administration, Civil Aviation Administration of China (CAAC) and approved by the European Civil Aviation Conference (ECAC) as meeting European Union Standard 3 requirements.
Smiths Detection's CTX familyof EDS is the most widely used in the world, with over 2,000 units deployed worldwide.
For more information on Smiths Detection's products and services, visit https://www.smithsdetection.com.
* * * * *
About Smiths Detection
Smiths Detection, part of Smiths Group, is a global leader in threat detection and screening technologies for military, air transportation, homeland security and emergency response markets. Our experience and history across more than 40 years at the frontline, enables us to provide unrivalled levels of expertise to detect and identify constantly changing chemical, radiological, nuclear and explosive threats, as well as weapons, dangerous goods, contraband and narcotics. Our goal is simple – to provide security, peace of mind and freedom of movement upon which the world depends. For more information visit www.smithsdetection.com
Press Contact:
Smiths Detection
Scott Factor
T: +1 216 233 8551
sfactor@morphodetection.com