The award recognises support given to those employees who serve or have served in Defence and the armed forces community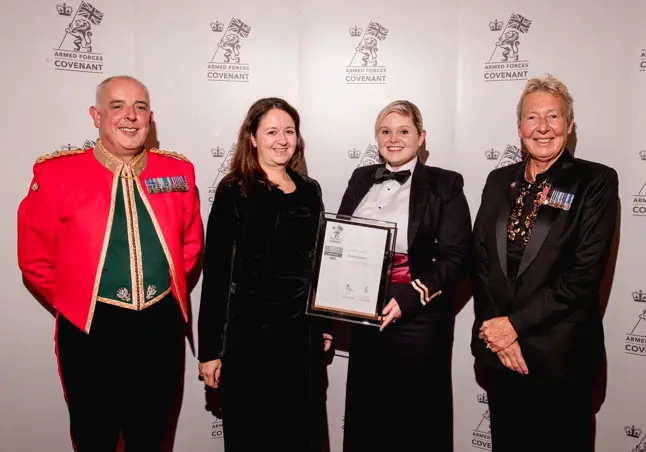 Smiths Detection, a global leader in threat detection and security inspection technologies, announced that it has received a Silver Award from the Defence Employer Recognition Scheme (ERS) at a ceremony held in Cambridge.
The ERS comprises bronze, silver and gold awards for employers who support those who serve or have served in Defence and the armed forces community, including military spouses and Cadet Force Adult Volunteers, and recognises those who align their values with the Armed Forces Covenant.[1] 
To qualify for the Silver ERS Award, Smiths Detection had to demonstrate that they actively ensure their workforce is aware of their positive policies towards Defence people issues. This includes offering an additional 10 days paid leave for Reservist and Cadet Force activities – to allow members of these groups to fulfil their duties - as well as additional paid leave for Military spouses either pre or post deployment.
Smiths Detection President, Roland Carter, said, "Smiths Detection is honoured to have achieved the Silver award. We recognize the key skills and contribution that our Defence employees make to our organisation, whether they be Reservists, Veterans or Cadet Force Adult Volunteers. It shows our commitment to the Armed Forces Community and is only the beginning of our journey to ensure that we provide the highest level of support to those within these groups."
Smiths Detection will be building on existing initiatives over the next 12 months in the lead up to its application for the Gold Award next year. This will include events focusing on Veteran's Mental Health, as well as the development of a Veteran's Mentoring Programme – led by the company's Veterans Employee Recognition Group - to support a more seamless transition from military to civilian life.
ENDS
[1] https://www.gov.uk/government/publications/defence-employer-recognition-scheme/defence-employer-recognition-scheme#silver-award