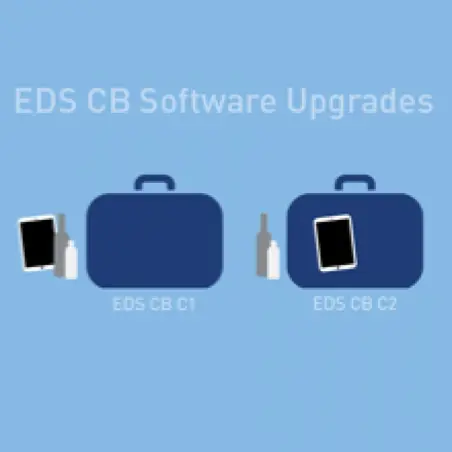 Wiesbaden – Smiths Detection can now upgrade previously installed checkpoint scanners to ECAC EDS CB standards using its approved EDS Cabin Baggage software packages. Implementing the new standards delivers significant operational benefits including enhancing security, eliminating the random trace detector search, streamlining the passenger experience and improving staff productivity.
The new software packages can upgrade the HI-SCAN 6040aTiX and HI-SCAN 7555aTiX scanners to EDS CB C1 or C2 certified systems; and the HI-SCAN 6040-2is HR to EDS CB C1. This protects investment in existing equipment and makes compliance a simple and cost effective process with minimum disruption to operations.
Elimination of the random trace detector search on hand luggage is a key advantage and, subject to approval from the appropriate authority, the CB C2 option also screens electronic devices whilst inside bags. Overall, the result is a faster, simpler and more efficient screening process; and more accurate detection which helps operators expose threats previously difficult to identify.
Potential threats are automatically identified and highlighted on the scanned image. The new technology analyses typical benign organic objects which the operator is otherwise unable to distinguish based solely on shape. Recheck is simplified as only regions indicated by a red frame need addressing, rather than complete bags with unrecognised contents.
"With one dual-view and two multi-view X-ray scanner models achieving EDS CB standards plus the availability of software upgrade packages, we offer a very flexible choice in terms of meeting the new EU regulations," commented Cameron Mann, Global Market Director for Aviation at Smiths Detection. "In addition, we are developing the new HI-SCAN 6040 CTiX specifically to target the more advanced EDS CB C3 approval."
Ends
Notes:
EDS Cabin Baggage software upgrades key features:
• Choice of CB C1 or C2 standards (HI-SCAN 6040-2is HR is restricted to CB C1)
• Compatible with an Allibert or Herbert tray
• Appropriate software, tray and CONOPS supplied must be used to remain compliant
• ECAC approved LEDS Type C Standard 2 or 3 algorithms
• Choice of combi algorithm switching automatically between liquid (LEDS) and baggage (EDS- CB); or LEDS only for trays carrying liquids
• LEDS screening requires trays with specific liquid foam inlay
About Smiths Detection
Smiths Detection, part of Smiths Group, is a global leader in threat detection and screening technologies for military, air transportation, homeland security and emergency response markets. Our experience and history across more than 40 years at the frontline, enables us to provide unrivalled levels of expertise to detect and identify constantly changing chemical, radiological, nuclear and explosive threats, as well as weapons, dangerous goods, contraband and narcotics.
Our goal is simple – to provide security, peace of mind and freedom of movement upon which the world depends. For more information visit www.smithsdetection.com/service