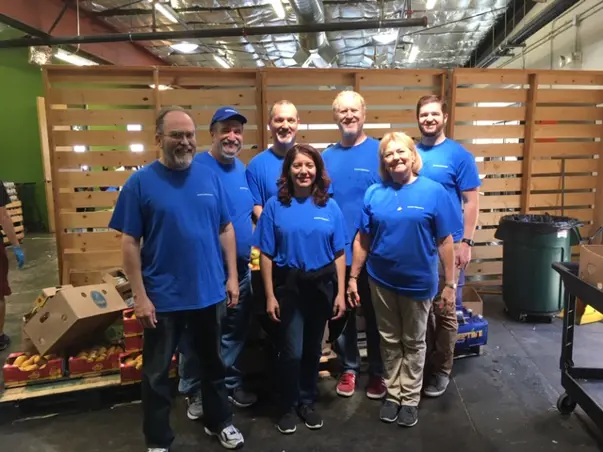 A team of volunteers from Smiths Detection Inc.'s (SDI) Newark, CA location worked with the Tri-City Volunteers Food Bank & Thrift Store (TCV) to prepare and distribute food to families throughout Alameda County.
Cameron Ritchie, Vice President, Technology, and Newark Site Lead at SDI, said, "SDI is committed to making a significant business contribution to our community as well as offering our time and effort to support our neighbors. Our work with Tri-City Volunteers was a great opportunity to directly help those in need and we look forward to working again with TCV and getting involved with other organizations that have an impact throughout our area."
Tri-City Volunteers Food Bank & Thrift Store serves about 1,000 families a week in its Marketplace from donations by local stores and the Alameda County food bank. Over 250 lunches a week gets picked up at its Bag Lunch Counter where TCV is able to provide a healthy, ready eat meal to the homeless. With its mobile pantry vans, TCV serves over 230 seniors a week who attend the Mobile Food Pantry Distributions in senior citizen facilities.
As a leading global business with a significant location in Newark, California, Smiths Detection, Inc. strives to engage with community leaders and organizations in Newark, Alameda County and across California. Smiths Detection engages with the community through several channels, such as: hosting quarterly blood drives to assist local hospitals and patients; working with Solid Rock Community Services to provide students supplies for school, and awarding STEM scholarships to area high school seniors.
Smiths Detection's Newark, CA facility engineers and makes solutions which enable safer air travel around the world.  The organization is also dedicated to supporting local communities, and offering job opportunities in technology and manufacturing.
###
Media Contacts:
Chad Kolton, Blueprint Communications, 571-414-0730,
Dana Knox-Gower, Smiths Detection, Communications and Marketing – Americas, 203-482-6752