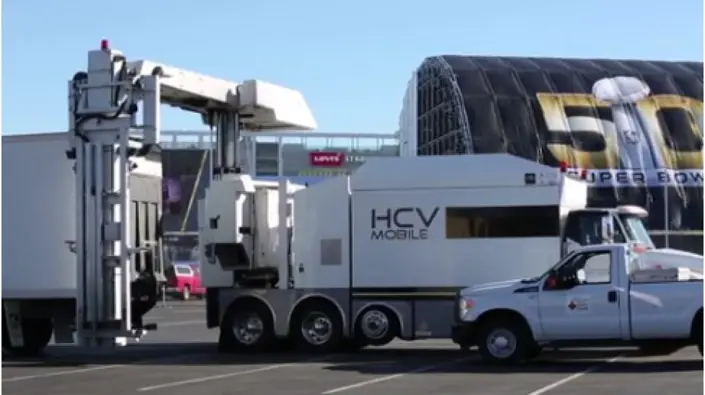 Edgewood, Md.– 4 April 2016– Smiths Detection Inc. (SDI) today announces its equipment was used by multiple local and national security and law enforcement agencies to help secure Super Bowl 50 at Levi's Stadium in San Francisco, California.
SDI supplies a variety of chemical and biological screening solutions, such as its fully integrated mobile screening solution, the HCVM L, to inspect trucks, containers and vehicles for threats like explosives, narcotics, weapons of mass destruction and contraband at permanent or mobile checkpoints.
Rob Ledenko, Vice President of Security Systems at SDI, said, "With millions of eyes on the Super Bowl, our quick, accurate and mobile threat detection technologies played a critical role in helping law enforcement do their job to keep everyone safe. The world-class efficacy of our advanced technologies helps our partners, like Customs and Border Protection, achieve their mission. Helping safeguard Super Bowl 50 is testament to the trust agencies like CBP put in Smiths Detection."
Smiths Detection Inc.'s equipment has provided threat detection and security screening solutions at many major events, including previous Super Bowls, Olympic Games, FIFA World Cups, the G-20 Summit and United Nations Congress.
Smiths Detection Inc.'s range of security equipment ranges from X-ray technology, such as the new HI-SCAN 6040C, to gas and explosive detectors that use advanced technologies in products such as HazMatID Elite, ACE-ID, RadSeeker, GUARDION, andLCD 3.3.
###
Smiths Detection Inc. designs and makes advanced systems and solutions to detect and identify threats including explosives, chemical agents, biohazards, nuclear, radiation, narcotics, weapons and contraband. It manufactures specialized products and manages programs for customers such as the US Department of Defense and Homeland Security Agencies. Smiths Detection Inc. has its US headquarters in Edgewood, MD, and partners with federal and state government agencies and first responders to strengthen homeland security and safeguard the military. It is a US subsidiary of Smiths Detection, a world leader in safety and security technologies, and part of Smiths Group, a global technology business. Smiths Group employs some 23,000 people around the world, including more than 8,300 in the U.S. where it operates around 100 sites in 40 states.