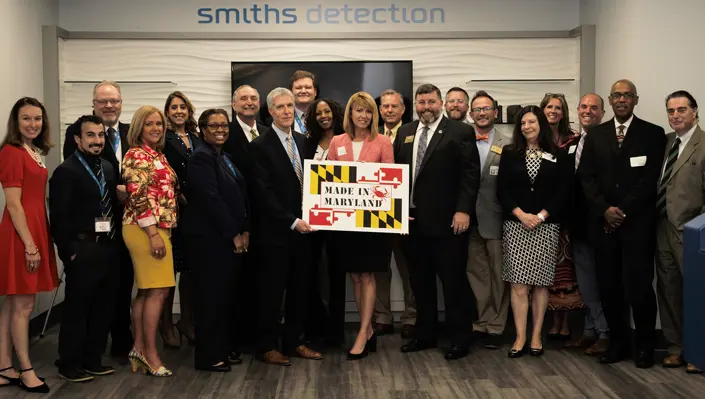 Today, Smiths Detection Inc. (SDI) welcomed Maryland Commerce Secretary Kelly M. Schulz to its headquarters in Edgewood, MD where threat detection and screening technologies are developed and manufactured to enhance public safety. During her visit, Secretary Schulz also learned more about SDI's active engagement with its neighbors in Harford County and across Maryland.
Secretary Schulz was given a demonstration of SDI technologies, including:
CTiX – latest generation of aviation checkpoint scanners which TSA recently announced a $96.8 Million procurement for USA airports
Emergency Responder solutions that detect and identify threats, like opioids and illicit fentanyl, including:

IONSCAN 600 – portable system that detects invisible amounts of explosives and narcotics
HazMatID Elite/TargetID – infrared hand-held chemical identifiers that analyse suspected dangerous powders, gels, solids and liquids
ACE-ID – a Raman laser substance identifier that permits users to test unknown substances without contact, including through plastic and glass.
Shan Hood, President of SDI, commented, "We were delighted to show Secretary Schulz the innovative technologies we make at SDI to help protect our community and our country from a wide range of threats. That commitment to our community extends to supporting future generations of innovators and entrepreneurs in Maryland, on their educational journey, which advances our shared goal of making the world safer."
Within the last year, SDI local social giving included a donation of biotechnology equipment to the laboratories at Harford Community College (HCC), located in Bel Air, MD. The donation to HCC consisted of a range of detection and identification devices and accessories used in biological and DNA analysis.  In addition, a team of employees had the opportunity to share their business insights with young future leaders of Homestead Wakefield Elementary School.  SDI also partnered with the Junior Achievement (JA) organization to host a local JA Day where students from grades 3, 4 and 5, were introduced to relevant real-world work experience.
###
About Smiths Detection
Smiths Detection, part of Smiths Group, is a global leader in threat detection and screening technologies for the aviation, ports and borders, urban security and defense markets. With more than 40 years of field-tested experience, we deliver the solutions needed to protect society from the threat and illegal passage of explosives, prohibited weapons, contraband, toxic chemicals and narcotics.
Our goal is simple – to provide security, peace of mind and freedom of movement, upon which the world depends. For more information visit www.smithsdetection.com.
Media Contacts:
Chad Kolton, Blueprint Communications, T: +1 571 414 0730, chad@blueprintcomms.com
Dana Knox-Gower, Smiths Detection, Communications and Marketing – Americas, T: +1 203 482 6752 dana.gower@smiths-detection.com