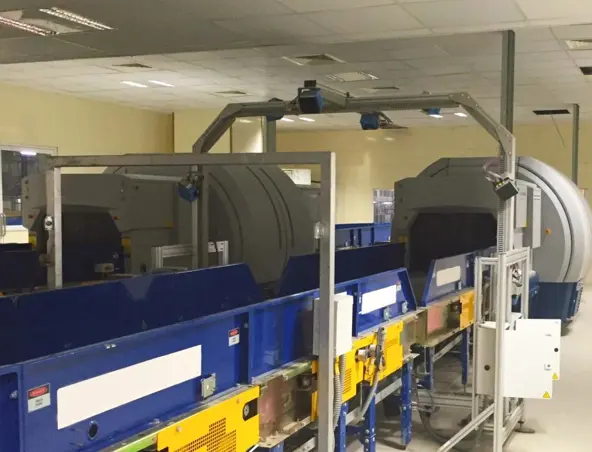 BENGALURU, India – Smiths Detection, formerly Morpho Detection – Safran, today announced that India's Cochin International Airport has deployed four high-speed CTX 9800 DSi™ hold baggage explosives detection systems (EDS) to screen all passenger checked baggage.
With the inauguration of its international Terminal 3, Cochin is the first airport in India to screen all checked baggage, referred to as Level 1 screening, with computed tomography (CT)-based EDS. Commonly referred to as European Civil Aviation Conference (ECAC) Standard 3 capabilities, CT EDS produce high-resolution, 3-D images that facilitate more accurate detection, lower false alarm rates, and reduce the need for manual inspections. In addition to CTX 9800 EDS, Smiths Detection has supplied 13 HRX™ dual view X-ray systems to screen arriving baggage at customs checkpoints.
To ensure maximum uptime and performance, Smiths Detection's onsite network of expert engineers and technicians will provide preventative and rapid-response services for a minimum of ten years.
Commenting on the new terminal and growth, Mr. A.C.K. Nair, Airport Director at Cochin International said: "Cochin's goal is to offer our passengers and airlines a world-class airport experience. Working with Smiths Detection to automate and enhance hold baggage screening capabilities is an important part of our infrastructure plan to meet the demands of anticipated domestic and long-haul growth over the next 20 years."
"Congratulations to Cochin International Airport on the inauguration of Terminal 3 and being the first airport in India to screen all checked baggage with leading-edge CT technology," said Pravin Surana, Director, Smiths Detection India. "As airports in India and throughout the region continue to upgrade explosives detection capabilities, Smiths Detection's customized EDS solutions and services are ready to meet the unique challenges and growth plan of any airport."
Globally, Smiths Detection's service teams include hundreds of field service engineers and field service technicians located at more than 500 airports around the world – performing over 90,000 maintenance services per year. Smiths Detection's CTX family of EDS are the most widely used in the world, with more than 2,000 units deployed worldwide.
For more information on Smiths Detection's products and services, visit www.smithsdetection.com.
* * * *
About Smiths Detection
Smiths Detection, part of Smiths Group, is a global leader in threat detection and screening technologies for military, air transportation, homeland security and emergency response markets. Our experience and history across more than 40 years at the frontline, enables us to provide unrivalled levels of expertise to detect and identify constantly changing chemical, radiological, nuclear and explosive threats, as well as weapons, dangerous goods, contraband and narcotics. Our goal is simple – to provide security, peace of mind and freedom of movement upon which the world depends. For more information visit www.smithsdetection.com
Press Contact:
Smiths Detection
Scott Factor
T: +1 216 233 8551
sfactor@morphodetection.com